I handforge all my knives using high carbon steel.They are individually heat-treated to assure quality.They will take and hold a razors edge,but are also easy to sharpen. I like to work with natural handle materials such as wood,bone,and antler. If you have a design in mind,or would like to modify a knife here, just let me know.I am willing to work with you to come up with exactly what you want.
Please feel free to contact me with any questions you may have.The options are endless.
O1,15N20,L6 and 1095 steels available.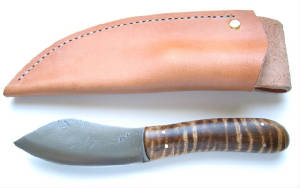 Dale Chudzinski
1474 Rt. # 44
Madrid, New York 13660